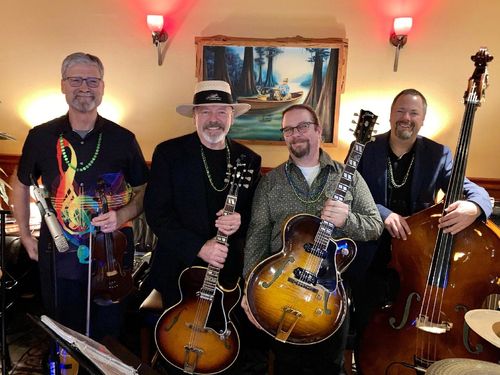 Bob Wills meets Django Reinhardt! Swing 48 delivers a high energy entertaining blend of Western Swing and what is commonly know as "Gypsy Jazz." The members are Mike Faast - guitar & vocals, Aaron Howell - guitar, Bryan Thurber - fiddle and Andy Simmons on stand up bass.
BIOS 
Andy Simmons - Stand up Bass 
Andrew Simmons, is a versatile and exciting musician with 25 years of experience playing Jazz, Rock and Pop, Bluegrass, Americana, and Folk music. With well over 2500 nights on stage, and a diverse discography, Andrew has a proven ability as a sideman to support and enhance both live performances as well as studio recordings. 
Aaron Howell - Guitar 
Aaron, is the proud owner of Penguin Coffee in  Anacortes. When not managing the Penguin, you can find him building and repairing guitars and playing jazz. Aaron attended Cornish Preforming Arts and performed in many Seattle cover bands before moving to Anacortes. He eventually discovered jazz and blues and is currently performing in one of the areas highly respected swing bands called "Fidalgo Swing."  
Bryan Thurber - Fiddle 
Classically trained as a youngster, Bryan Thurber has been exploring different musical genres since the 70's. Past bands have specialized in Pop, Samba, Tango, Bluegrass, Swing, Gypsy Jazz and Contra-Dance music. His musical journey includes The Gadjo Gypsies, The Dunton Sisters, Stilly River, High Mountain String Band, Katz and Dogz, Toccata Tango, String Fever, and the Texas Tuneshooters. A retired ferry captain, Bryan and his wife Kathy have lived on Lummi Island for many years. 
Mike Faast - Guitar/Vocals 
Following in the footsteps of other country/jazz singers such as Freddy Powers, Willie Nelson, Ray Charles, and Pasty Cline, Western Swing Hall of fame member, Mike Faast is equally at home singing a warm country ballad, a high honkin' bluegrass tune or crooning a jazz standard. Mike currently serves as bandleader for the Mike Faast Trio, the Archtops , the Cascade Mountain Boys (Bluegrass), the Jangles (Western Swing.) Mike has been performing concerts on the West Coast for over forty years, and his bands have performed in hundreds of events in the great Northwest. 
Contributors; Roger Ferguson,  fidddle/guitar/mandolin - Phil Nikano - sax/percussion