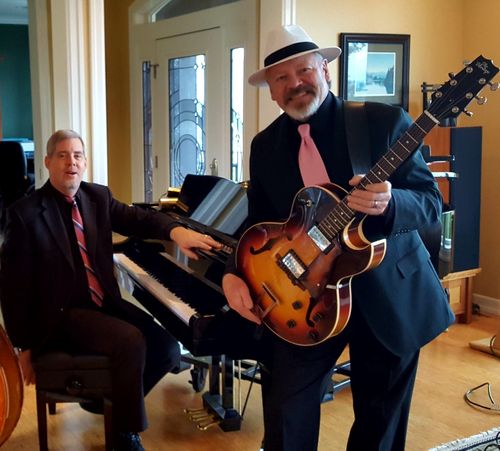 Mike Faast and Andy Carr have been a part of the Northwest music scene for over three decades.  The duo draws on their years of experience to bring a wide array of swing, blues, jazz, and soul to their audiences. This is the perfect group for your wine bar, dinner party, or wedding. They can also expand the group to fit the size of the venue from duo to trio or quartet/quintet. 
Mike is a member of the Western Swing Hall of Fame and has been fronting bands in several styles since the mid 80s. He continues to perform in the Cascade Mountain Boys, the Jangles, Brother's Keeper, and now with Andy Carr in Mike's Trio and the Faast-Carr duo.
Andy has been part of the Puget Sound music scene for 38 years, as a highly sought-after accompanist and arranger for vocalists, choirs, and musical theatre; and as a jazz pianist with groups ranging from small combos to big bands. Andy maintains a busy schedule playing jazz throughout Northwest Washington with four different ensembles (Whistle Lake Jazz; Swingnuts Jazz; A' Town Big Band; and the Seabreeze Jazz Band), as well as collaborating with Mike in Mike's trio and the Faast-Carr duo.