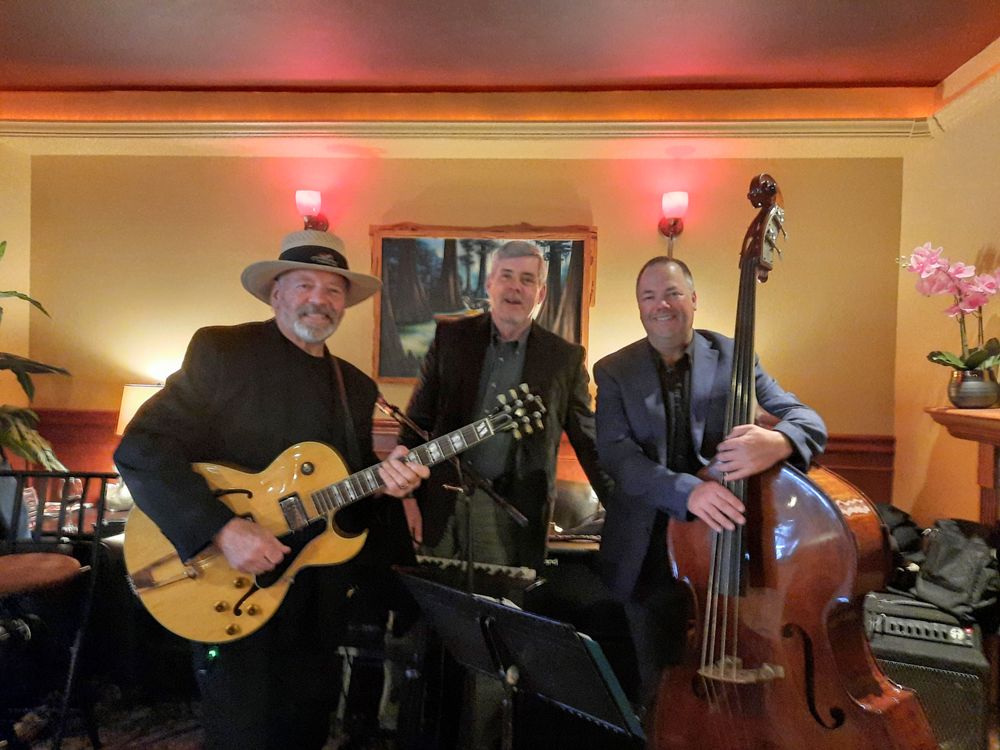 Drawing material from Mike's new album, Mike Faast Sings the Standards, the Mike Faast Trio focuses on music from the great swing era as well as blues, jazz and 60s' soul. Expect to hear jazz standards such as "All of Me", "Paper Moon", "I Got Rhythm", and "It Don't Mean a Thing", Blues such as "Georgia",  "Sunday Kind of Love",  "At Last", "Is You Is", and "Stormy Weather", 60's Soul like "My Girl", "You Send Me", and "Boardwalk", and even some jazzy Country tunes like "The Night Life,  "Right or Wrong, and Walkin' After Midnight."  This is great dance music, however, it's also a lot of fun to just sit and listen to. The trio is perfect for your jazz festival, corporate event, wine bar or cocktail party. *The ensemble features: Mike Faast on guitar and vocals, Andy Carr on piano, and Andy Simmons on stand up bass
* add sax/clarinet on request *An instrumental version of the band is also available.
 
The Mike Faast Trio

Andy Carr
Camano Island resident Andy Carr has been part of the Puget Sound for over 40 years as a highly sought after accompanist and arranger for vocalists, choirs, and musical theatre; and a jazz pianist with groups ranging from small combos to big bands. 
Andrew Simmons
Andrew Simmons
Andrew Simmons, is a versatile and exciting musician with 25 years of experience playing Jazz, Rock and Pop, Bluegrass, Americana, and Folk music. With well over 2500 nights on stage, and a diverse discography, Andrew has a proven ability as a sideman to support and enhance both live performances as well as studio recordings.

Mike Faast
Following in the footsteps of other country/jazz singers such as Freddy Powers, Willie Nelson, Ray Charles, and Pasty Cline, Mike Faast is equally at home singing a warm country ballad, a high honkin' bluegrass tune or crooning a jazz standard. Mike currently serves as bandleader for the Mike Faast Trio, Samish Bay Swing, the Cascade Mountain Boys (Bluegrass), the Jangles (Western Swing), and the Jangles Quartet (acoustic string band). Mike has been performing concerts on the West Coast for over thirty years, and his bands have performed in hundreds of events in the great Northwest. In 2016 Mike was inducted into the Northwest chapter of the Western Swing Hall of Fame! 
Honeysuckle Rose
Mike Faast Music Jazz Standards